I had written this in March 2010 for mouthshut.com . Stumbled across it today.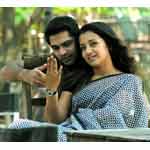 I got to watch a love story after ages and man! what a love story it was!
Not the sugary DDLJ type and not the tragic Titanic style. This is truly something else!
I found myself crying in most portions of the movie - not sure if it was for the music, the lyrics, the dialogue or the story itself. I think it is the beautiful amalgamation of all these elements that moved me.
This is a simple plot about a boy madly in love with this pretty lass who is just not able to make up her mind. When I say "simple" perhaps I am using the wrong word because it is really not that simple. We've only heard stories about love stories having a happy ending or a sad one. But no one really paused to talk about what goes on in the minds of either of the lovers - except perhaps those who have actually experienced it. Quite complicated and very interesting actually - two lovers of such contrasting natures.
Gautam Vasudev Menon (GVM) seems to have understood the psyche of a woman really, really well - I'm tempted to think if this story is autobiographical. What else can explain so much intensity? Gautam Menon comes across not only as a sensitive writer but a very intelligent film-maker in the way he has played around not only with the script but our minds.I am actually angry with him for making the movie so close to reality but that's the most endearing thing about the movie. Every situation, every character, most dialogues are so true to life
. Particularly a few situations like when Karthik (Simbu) is working hard in Goa and is unable to take Jesse's calls. Then those SMSes that they send each other (right from the train scene until the end)...I'm sure everyone has sent or received such messages at some point! Even the swear words that Karthik uses - so natural for a guy as frustrated as him. Most of all, atleast 1 in 10 women can identify with Jesse and her angst. The place when they are in a restaurant and she begs him for them to be just friends because its so much more easier....that is the anxiety of any woman who doesn't want to lose a dear person in her life but at the same time be rid of the guilt of hurting others. I loved the parts when Karthik's friend, Ganesh is worried about the immediate practical problems but all Karthik can think of is his girl, with a sparkle in his eye (making us smile, shake our heads and say, this guy is a goner!!)
All through the movie, the director grips you by the heart-strings and leads you along. Don't even mention the sudden twist at the end...it was too much for a die hard romantic like me to take!
GVM has taken a bold step in casting Silambarasan (Simbu) and he has done a great job in turning a rather brash, uncouth often vulgar street kid into this cute, lovable boy-next-door with honest dreams and aspirations. Any girl would fall for such a boy! Can you believe it? I have actually started thinking he is really cute and simple. Finally, he looks and behaves his age. I really wish he packs off his vague scripts and obeys the directions of people like GVM, Maniratnam and the like. But he still needs to work on his diction - though his English is okay, his Tamil is slightly jarring to the ear.Trisha....lucky girl. She has more to do that just look pretty. One solid role only after Nuvvosthey Ne Oddhantana (telugu - Santhosh Subramaniam in Tamil) and Abhiyum Naanum. The southern film industry can take pride in the number of (honestly) woman-centric themes compared to the Hindi film industry. So Trisha, you've made money. Now is the time to make a Name!! :)
The music of the movie? I have to write a separate article about it!! If we thought Harris Jayaraj and GVM had a great understanding of each other's thoughts, AR Rahman and GVM have too much of it. GVM must be a great communicator and ARR is blessed with a deep insight into the director's mind. The songs and the background score are too good. Thinking back, I think it is the background score that moved me to tears in many parts. And Omana Penney...how much I cried...and it was out of excitement...the situation, the way it leads to the song, the hope created and most of all the song itself. What a song - there's no limit to how creative our darling ARR can get. And then Aaromale - wow! so apt to trace Karthik's development into a mature filmmaker from a love-lorn boy.
Gautam Vasudev Menon, a great movie and a big hug to you for making it! Just a little thing, please, we don't want to see the group dancers the next time. You have your fans and we will watch your movies even without those dance(r)s - you don't need them anymore. You still retain the freshness and charm of Minnale but we expect you to dispense with the group dancing ritual. And God knows about your New York fixation! Please globe trot a bit and take us along with you just like you take us with you on your sentimental journeys!